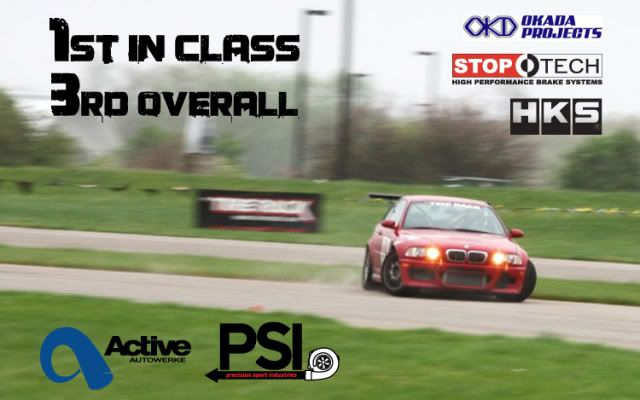 The End:
A week of racing in the One Lap or an hour race always comes down to who crosses the finish line first or in this case with the most points. We are entering this event down 15 points on the 3rd overall position. For the final skid pad event we run an inverted field with the slower cars starting first. The wind is blowing what feels like 50mph and the temperature is dropping around 10 degrees in the next 40 minutes it feels like it has dipped under 40 degrees. Even better it is spitting rain.
We take cover under the overhang at the Tire Rack to get out of the wind and wait for our turn on the line. As I wait on the line the car is moving around from the wind gusts just sitting still. I launch the car with some nice Michelin black marks and try to get up to speed right away for my counter clockwise run and then spin around for my clockwise loops. Jose has pumped up the tires to our normal hot temps and then some.
The M3 is really hooked-up and hugging the middle of the circle, and even though this is billed as a dry skid pad event in reality the pavement is wet for the front running cars including me. I pull in to park and hear that the car has turned over 1+g on the run, good enough for 2nd Overall. Our competitors with the Subaru are a bit of unsure what is going on since they did not hear the announcement for all the other cars. Later I am going inside to change back to street clothes and hear from someone is scoring that the event that we have nailed down 3rd place by 5 points!
A long, noisy but satisfying week has come to an end. We have beat our goal of a top 5 finish for the Supercharged M3. The car has finished the event without any major issues despite its pre event teething pains created by a stock part failure and the tow truck guy wiping out the rear suspension piece. I am pretty sure that this is the highest placing BMW in the One Lap event, matching my 1999 finish in my 318ti with a AA Turbo system.
At the awards banquet we take home 3 trophies:
1st in Class SSGT Small Bore
3rd Overall
Manufacture Trophy, for top placing BMW.
Next year? Well nothing in stone yet. There is a rumor of a luxury sedan possibility. That might be a nice change after this years' car with racing seats and a noise level that will be with Jose and me for the next several days. I also forgot to mention one of the best pieces of news when we returned back to Tire Rack. Jonathan Czarny (M5 driver) suggests leaving the car at Tire Rack for the guys at Exotic Car Transport to come and pick it up and bring it back to Orlando, we can jump on a plane with them from Indy and get back to Florida. Now that is the best news I have heard besides our coming in 3rd! I must be getting old.
After a fiasco at the airport securing a rental car, Hertz was completely sold out of everything! Avis (who tells us HERTZ put the HERTZ on us) set's us up with a SantaFe Sport Ute and head over to Jonathans' house for something to eat and get some much needed sleep, but only after a little Forza video game play on his 100" theater set-up!
Until next year…