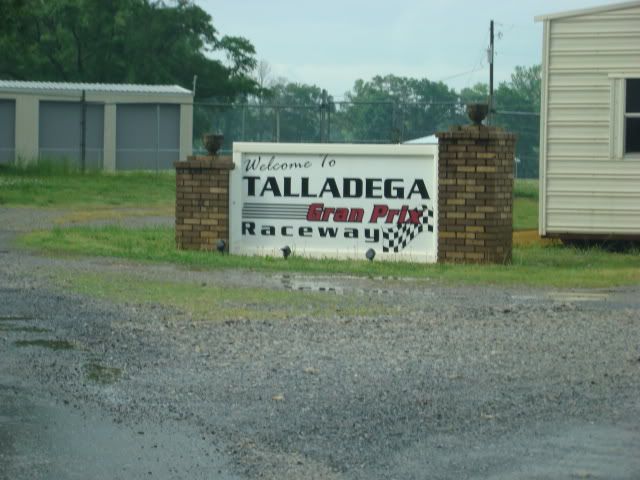 Redemption song?
Monday I awake in the Comfort Inn with one of the better nights' sleep I have had since leaving home. A glance out the window RAIN, here we go again. A powerful rear wheel drive BMW competing against a pack of rabid four wheel drive cars that can really go in limited traction situations. After a little Rasin Bran, yogurt and coffee we head over to the track to see how it looks.
A walk around the track and I must say this is a really cool track layout. Turns one and three are nicely banked and the track has a decent crown for drainage. The surface is pretty pristine with little repair patches. I am told the paving is similar to Road Atlanta's and that is good since it provides good grip in the wet.
For the first run the track is completely wet but there is little standing water so that is encouraging. I go out on my recon lap and try to push it and to my surprise the track returns grip in my favor.
As I sit at the start-finish I think I can carry some speed out of the corners to lay down some of that sweet loving M3 supercharger power. The run is pretty flawless and a bit conservative except for the fact that when I pull in I am informed that I took a bonus lap. Stupid mistake actually but the finish flag man was not waving the flag so I could not see it. In fact I could hardly see it when I came around the second time! Oh brother. The good news is Peter Leir and Ian are there to cheer me on about what a great 3 laps the AA M3 was able to lay down.
I was surprised that traction was so good in the wet, I had very little wheelspin at full throttle. The track is drying out for the competitors and nearly dry till around the last 15 cars are set to run then the sky rolls in and dumps rain on the track. It does not let up and there is some chatter that the next session might be rained out. Brock says let's wait and see after the workers take their hour lunch break. Amazingly the skies clear and we run.
Results 4th Overall in the morning session, and 5th Overall in the afternoon.