One Lap, an adventure just getting to the start.
Jose, my co-driver for this year and last is entrusted to drive the car from Greer, SC to Indianapolis where I am set to arrive around 11am on Friday and then drive the 3 or so hours up to the Tire Rack in South Bend, IN. This plan sounds good until I get a call late Thursday night… the power steering line has failed, this is the 2nd time, it blew at Carolina Motorsports Park at testing last week. Jose is at a gas station 60 or so miles outside of Indy. So the plan comes together, tow the car to the hotel in Indy (downtown) and Peter Lier would come with a replacement hose.
Not so simple, the next morning Jose calls to inform me that the tow truck operator secured the tow strap the rear lower control arm of the M3 and when Jose backed the car up into the parking spot….it broke. So change of plan. Peter would still meet us in Indy but now we would load up the M3 on the trailer and drive his GT2 to a place we could fix the car. Luckily we have the wonderful support of Karl Hugh and the whole crew from Active Autowerke who make some calls and arrange for a pit stop at Zionsville Auto, luckily right on the way to South Bend.
We arrive at Zionsville after lunchtime and Dwight gets the M3 on the lift to figure out what is going on. Luckily the rear control arm can be fixed with a welding torch, so that get's patched up and then we decide to reinforce the other as well. I forgot to mention that the power steering line is the not the easiest part to find, there were none from Indy to South Bend, but there was one at a BMW dealer in Louisville and that is sort of on the way for one Jonathan Czarny (driving from Orlando as a last minute entry) who has taken Peter's co-driver Ian Stewart.
They arrive at Zionsville around an hour later hose in hand! After inspecting the hose and hard metal ends it is determined that some brass welding reinforcements are needed to stop this one from failing. Part installed and slightly reshaped to avoid any further failures and we are on our way to the start. We arrive at Tire Rack around 6pm so it is too late to install the tires that will have to wait for Saturday morning. Luckily we find Brock and are able to register and grab out stickers for the event. Whew finally made it!
Saturday morning we rise early to enjoy a little Bob Evans breakfast after a late night of installing all graphics on the car and then heading over to the bar for a burger and a beer. 8am and the Tire Rack crew is ready for us, I pay for the tires as Jose oversees the tire swap to new Michelin PS2's 295/30 all around. Wet Skidpad, we are car #6 so I don my driving suit and helmet and get in line to see what the brand new tires have in store for us with a 200' wet circle of asphalt.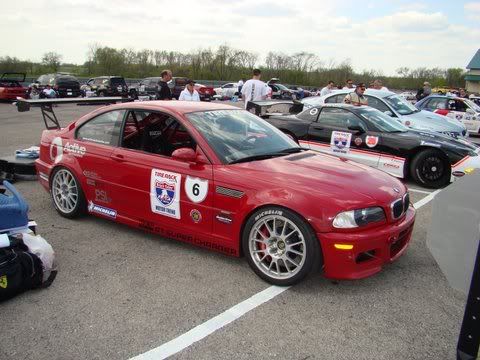 Last year we placed 2nd overall in with a .918g and the Active Auto E46M3 SC but it was running on 19' staggered size PS2's and a very mild suspension set-up. I figure this car should do better since it has Moton shocks, giant swaybars (not good for a skidpad) and other suspension upgrades for adjustability.
You cannot really practice a wet pad event unless you live near one so this is always a bit of a nail biter. Luckily the car seems to stick ok with fairly mild understeer and the back end stays tucked in. The only bummer is I have to run in 3rd gear which bogs the motor a bit more than I would have liked. The 4:10 rear end is good for most tracks but 1st and 2nd gear are near worthless for anything.
I find out that my overall average was .923 G good enough for 2nd Overall and 1st in class, Will Taylor busts out a .953 G for 1st Overall those GT-R's are amazing for being so heavy.In typical One Lap fashion we load up our stuff and head to Autobahn Country Club in Joilet, Ill a mere 106 miles away.

Autobahn Country Club
Autobahn Country Club is a fantastic facility in the middle of who knows where. The grounds are lush and green from the copious amounts of rain the area has seen for the past few days. Not so fantastic were the track conditions, more in a minute.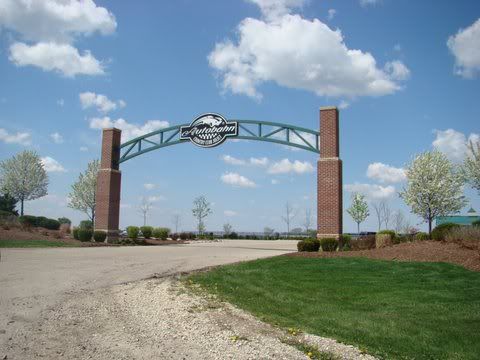 First we need to stop for lunch at the club's mess hall. Short of the brat's at Road America the chicken Panini sandwich is the best I have had at a track. Now despite the fact that the Active/HKS supercharged M3 is making giant power up top this car does not have the low end torque of a turbocharged car or big block. The track conditions are similar to a wet track with some areas that have semi-normal grip levels. This is now a point and shoot event.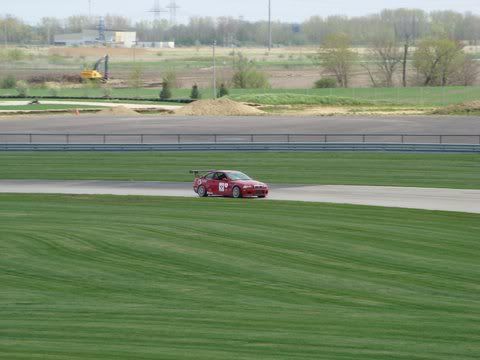 For the M3 to lay down a decent lap time I have to be able to carry speed & that is not happening. Bummer really because had the conditions been better the results would have been very different. I pull of a 6th Overall getting beat by some obvious cars the GT2 (great for pointing and blasting), the GT-R, 2 Subaru's with great turbo power and AWD, and Dan in his well sorted and powerful big block Corvette. Good news it it did not hurt the overall too much.
Pack up now for the 300+ mile haul to Kentucky.
-Catesby