The day starts early with our friends from PSI knocking on my door at 6:00am, "we are here with a computer to load the new program into the ECU, keys please". Awesome I hope this will fix the power issues we were having at Sebring. It did not show in the results but I feel that we would have been closer to the top cars if I had the extra 30mph on the straights, and there are a lot of them at Sebring. Daytona is another story it is around 75% straightaway and power is essential to a decent lap. Fingers are crossed for the new tune.
1st session the car the results of the tune are evident, the car pulls all the way through 6th gear to an indicated 170+ on the optimistic speedo. The StopTech brakes are fantastic giving me all the confidence to carry the throttle as deep as possible into the brake markers. The only challenge is the hood is lifting around 4 inches at top speed acting like a airbrake, and allows for the car to feel really light in the front at speed.
Along with this the front ducting is creating lift. Either way after one hot lap is see the temps rising up, the stock radiator is having trouble dissipating the heat the new tune is generating at speed. I have to take the 2nd lap easy and only run 140 to 150 on the banking to avoid a failure. After doing this I am able to get back to throttle in the infield and not leave too much there. In the end I find out that we have been edged out by Danny in his Vette. I think he was able to keep his foot down the whole time.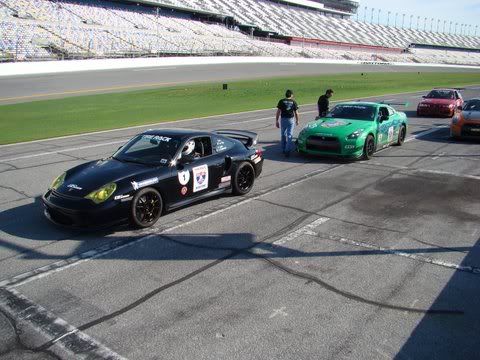 2nd session are similar, Jose taped down the hood & front holes so let's see how is does. As well we flatten out the rear wing so it creates less drag. Wow what a difference I see an indicated 180+ and the front end is now planted. Unfortunately after a lap and a half the temps start to rise up again, but not as badly. So I do some short shifting and keep the speed down to let the temps come down. Luckily there is little drama elsewhere.
Results we manage a 5th overall in the first session and a 4th overall in the second due to the signal "snot green" GT-R's engine troubles.