With Karl Hugh keeping a close eye on on the behavior of the car at Sebring yesterday, he thought it was time to revise the tune slightly due to it running abnormally rich. Fast forward to Daytona Beach the same night after the Gainesville drag racing and we're scrambling to coordinate meeting with the driver/car to upload the new tune we received from Karl and Barry earlier that afternoon. Here's a quick timeline of how it all went down.

5/5 10:30PM:
We meet up with Catesby and Jose at the Daytona Ale House. After sharing a drink and shooting the breeze with them and a couple others, it's time to upload the new file to the car. Sean, Surina and I step outside to do so, which is typically a 15 minute process start to finish. Long story short, it doesn't end up working, something with the laptop was not allowing our program to run to access the car's DME.

5/6 1:00AM:
After quite some time trying to get the program up and running, we call it quits for the night, and head back to the shop in search of a solution for the morning.
5/6 2:00AM:
Back at the shop, we had an idea to try one of our desktops that had a serial port; it worked! Now it was time to pack all that up, and be in Daytona at 6AM to get the flash uploaded.

5/6 6:00AM:
Short on sleep, Sean and I make our way back to Daytona and arrive at the Ramada Inn at 6AM on the button. We get right to work and set up our makeshift workstation; finally some pics!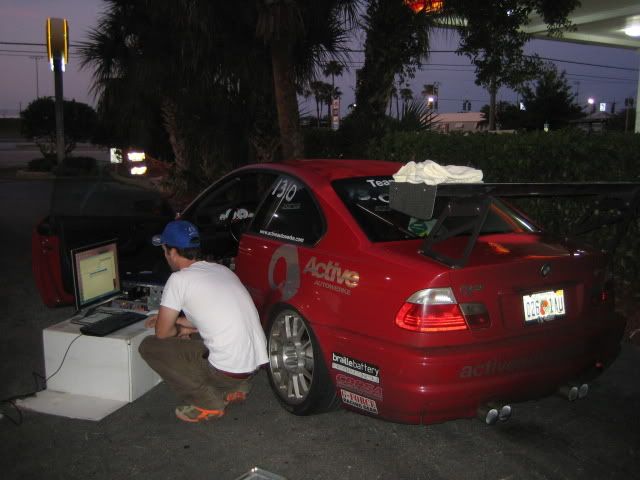 A closer look at Precision Sport Industries' Mobile Flashing Unit:
Waiting for the file to be uploaded to the DME
Success! Now time for a quick test drive and a couple gratuitous pictures of the 1 Lap car alongside the Precision Sport Industries E46 M3 with Horsepower Freaks stage 2.5 turbo.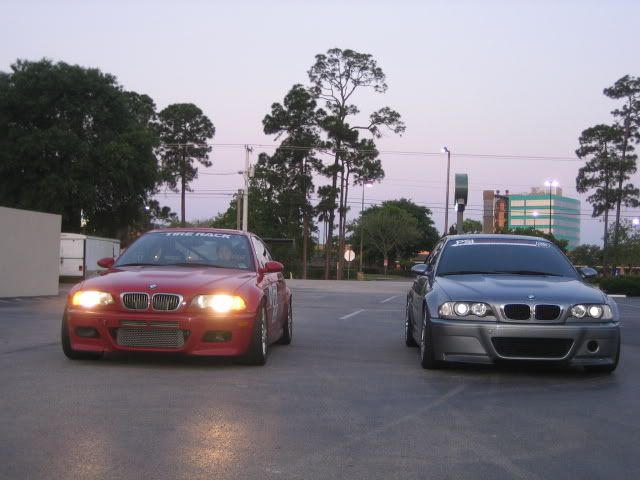 Now you know why this update is called "Day 4.5" since it transcended the end of day 4 and the very beginning of Day 5. We're just glad we were able to get the job done, and the car back on the track with some more power for that back straight at Daytona. More updates coming soon from the track!