For 2009, HKS, Active Autowerke, and Precision Sport Industries, Stoptech, and Okada Projects combine efforts to sponsor the 2001 E46 M3 into the One Lap of America 2009.
Follow this blog to see up to the minute updates on the car and the drivers, Catesby Jones and Jose Collado, as they work to complete the 2009 One Lap of America. 
The event begins May 1st at Tire Rack's headquarters in South Bend, Indiana and takes drivers to:
Autobahn Country Club
(Joliet, IL)
Turfway Park
(Florence, KY)
Highland Rim Speedway
(Greenbriar, TN)
Talladega Gran Prix Raceway
(Talladega, AL)
Sebring Int'l Raceway
(Sebring, FL)
Gainesville Raceway
(Gainesville, FL)
Daytona Int'l Speedway
(Daytona Beach, FL)
Carolina Motorsports Park
(Kershaw, SC)
BeaveRun
(Wampum, PA)
The Car: Active Autowerke Supercharged E46 M3
Unique for 2009 the M3 is fitted with the new HKS GT Supercharger which is making just over 11 lbs of boost, giving this M3 well over 500 RWHP to be a top 5 competitor in the 2009 One Lap.  Along with new charger, the fuel system was modified with larger lines, modified fuel rail and inline fuel pump to make sure the new Bosch 60 lb/hour injectors had the necessary fuel to match the extra boost.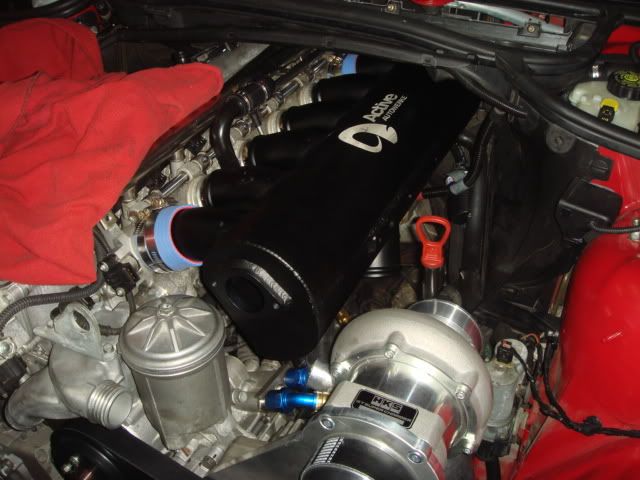 A new 18 inch core AA intercooler was also added to help in consistency on the track, along with a methanol injection system to increase the fuel octane for increased engine safety.  To match the extra boost Okada projects coils were used to increase the spark for maximum  and consistent power output.
A full 6 piston Stoptech brake system was also fitted into the car to increase safety and stopping power for the track.  The massive 380mm slotted rotors were chosen to provide the maximum heat capacity for the stresses of Sebring and speeds of Daytona.
To match the increased performance of the engine and braking system, the cooling system was also heavily upgraded and includes an AA prototype radiator, BMW Motorsport 55 degree Celcius thermostat and sport fan clutch.